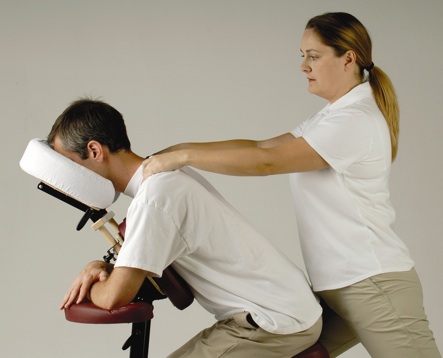 Corporate Chair Massage
On-Site Chair Massage is the number one stress  reduction  and  wellness
program in America today. More employers are  aware of the  tremendous impact that  Chair Massage has on work related stress and employee's burn out.
On-Site Chair Massage  can be use to: Improve employee's moral, increase productivity, reduce absenteeism, employee's appreciation day, special events,  reduce the high cost of health insurance, and gift to clients. Whatever the occasion, On-Site Chair Massage  is always welcome.
This service will without a doubt, be appreciated by your employee's and
can reflect a positive Attitude and Morale towards the company. We can make  arrangements to have one to four  Massage Therapist come to your place of work for a minimum of two to three hours at $90 per hour.  We look forward to working with your Company now or in the near future.
The Benefits
 Reduces muscle tension
 Helps reduce repetitive-stress injuries
 Increases circulation, boosting energy and alertness
 Relaxing
 Calms the nervous system
Our Packages
We only provide the best for you